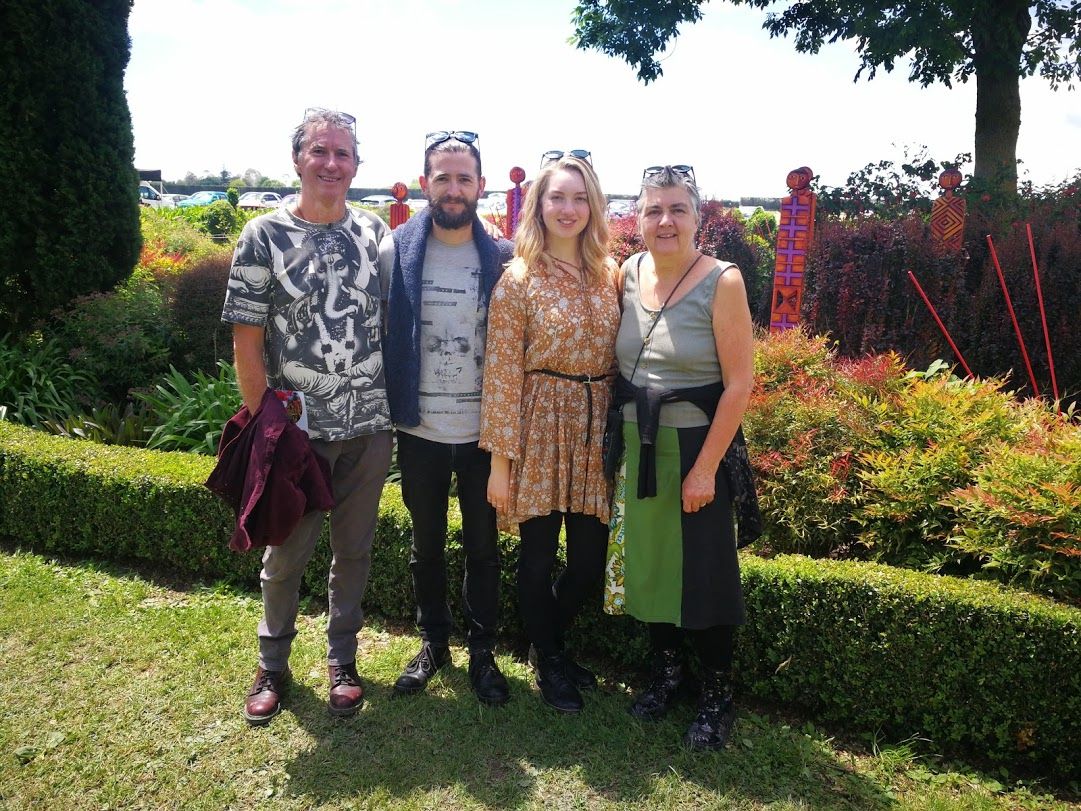 We run a small cottage industry here at Millstream Gardens, interweaving making ointments and oils, packing orders, and tending to our ramshackle herb and vegetable gardens. "Small is Beautiful" is our motto, and we have resisted the pressure to expand a number of times, as we don't want to compromise the way we grow our herbs and make our natural remedies. Growing and harvesting with intent and mindfulness is an integral part of our business and we feel it would be hard to retain this core value if we had to outsource or grow on a larger scale.
We were featured in a segment on Rural Delivery a couple of years ago and we think it does an excellent job of showcasing who we are. Many thanks to the Rural Delivery team and the great job they did.
The bulk of the plants used in making our herbal remedies come from our gardens, gathered wild from our land here in Hawkes Bay, supplemented with plant matter or extracts that we buy in. The beeswax, Sunflower Oil, and Essential Oils such as Lavender Oil, all come from local and NZ producers.
We have chosen to replace the olive oil with cold pressed extra virgin sunflower seed oil (GE free) from The Good Oil company, it is grown and processed in the South Island and arrives here in 200 litre drums. This is GE Free, has good emollient properties, and is rich in Vitamin E which is a natural preservative as well as being great for your skin.
We strive for transparency in our business, and try to list our ingredients thoroughly. All our natural products are GM and Paraben free, and to the best of our knowledge we have avoided using any other 'suspect' ingredients. Though we can't claim full organic status for our natural remedies, we have a commitment to using organic and local products whenever possible. This can be a challenge as one constituent may become unavailable, or be changed with little notice. This is probably more of a problem with natural products, where new information and changes happen quite regularly. We do our best to keep up with the changes and adjust labels as soon as we can. We feel that we are improving our choices of ingredients all the time, and accessing more and more organic products. For more information on what ingredients we use in our natural remedies, you can find a document with additional notes HERE. We recommend that where possible you store our natural remedies in a cool, dark place.
Our 30ml and 60ml jars are brown glass, to prolong the quality of the natural ingredients. Where possible, we are gradually replacing plastic pots and bottles with aluminium tins because it seems that in NZ at the moment, aluminium is a better option than plastic for recycling. We have switched our lip balms to cardboard tubes, have sourced cellulose based bags for our shampoo bars and first aid kits, use cellulose based cellotape for packaging where possible, and have begun moving from vinyl labels to paper labels where we can do so.


In an effort to reduce our carbon footprint, we will be recycling used Millstream jars. If you're dropping in, feel free to bring any empties with you and leave them with us. Otherwise Cornucopia in Hastings, and Chantals in Napier are collecting jars on our behalf. Please leave your clean jars and we will collect, sterilise, and reuse them.